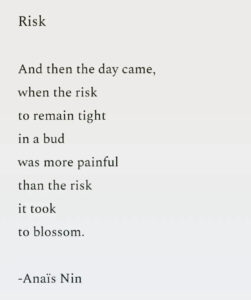 Risk.
I remember reading this quote a few decades ago and thinking, I'm not even sure what that means.
That was because I was not tuned in to "me". I was focused on everything on the outside.
When I started to investigate how I was feeling and why I was doing what I was doing, I realized that I was afraid to blossom. I was too focused on other's expectations.
I was afraid of who I would become.
I knew who I was.
I followed all the rules, I tried not to rock the boat, I apologized a lot.
Then I started making decisions that were not popular with my family. Such as traveling on my own or not going to events that I no longer enjoyed.
I also decided to remove people from my life that did not add any significance or joy.
It was scary.
It was a risk.
It was heart opening.
I decided to BLOOM!
Blooming is not just one and done. It takes time. It takes stages.
That is the same for us.
Our growth takes time.
Go ahead, take a risk and see what blossoms.
Always on your side,
Indrani
"There are two ways forward, and both are up to us: First, we can start paying more attention (rewarding) good behavior. And second, we can...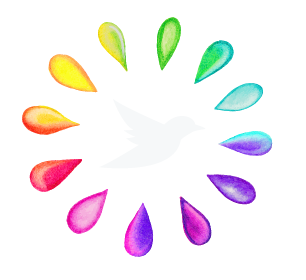 Stay Connected!
Get the latest news from Indrani